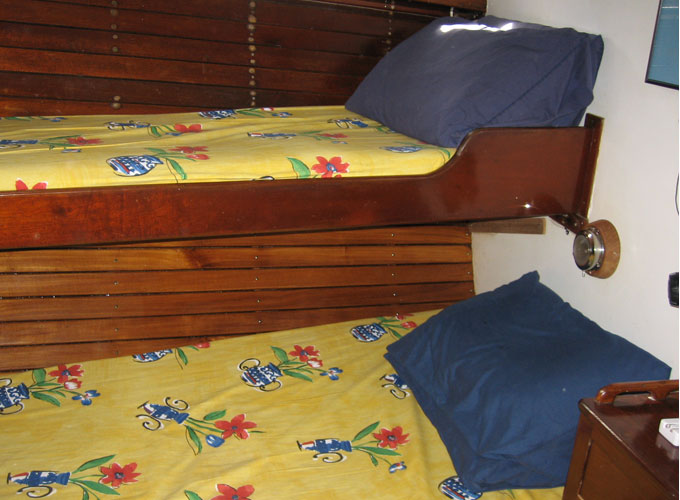 Sail training – Starboard Cabin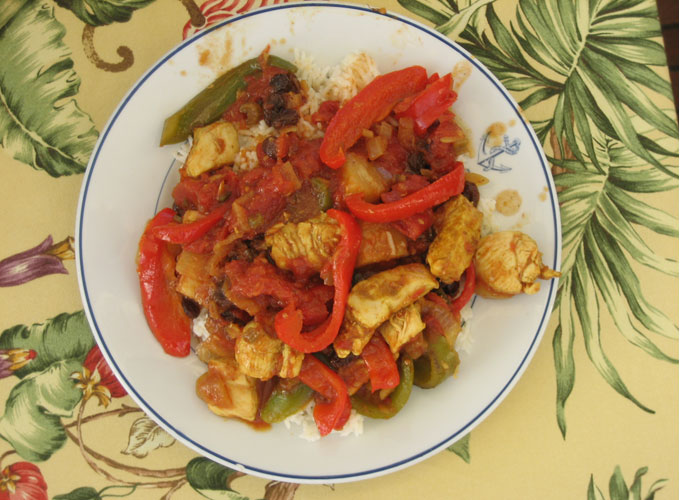 Galley Prepared Ginger Chicken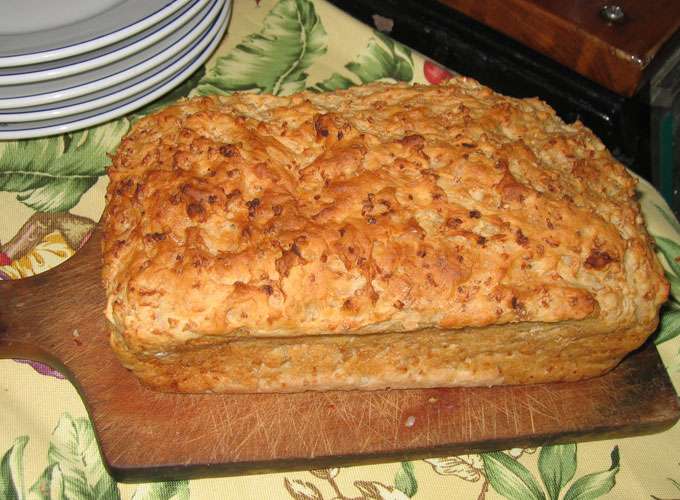 Freshly Baked Bread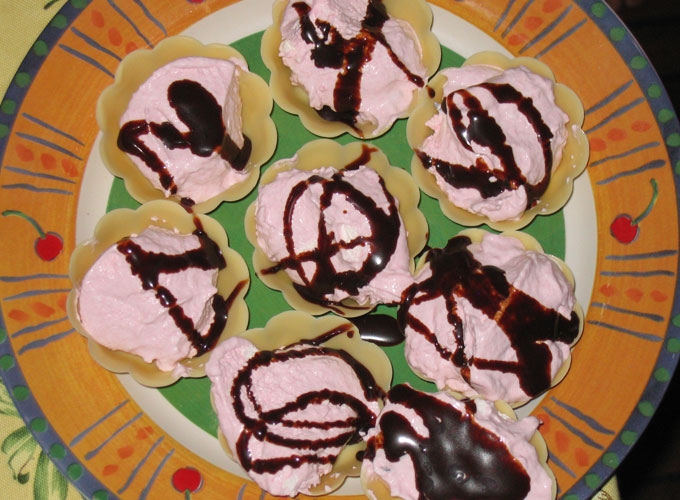 Simple Desserts
Live aboard sail training in the Caribbean
All sail training programs aboard SAMANA are live aboard courses which include all meals and all learning materials.
You live aboard your vessel for all of the sailing courses in the program. We sail in one of the most spectacular cruising areas in the world, the Caribbean Sea.
Your sail training course begins in St. Thomas, United States Virgin Islands. Each day we sail to a new port. In the Caribbean port of calls include St John, St. Croix, Culebra, Vieques and Saint Thomas. The Caribbean Sea is known for excellent winds, excellent sailors, good anchoring, magnificent snorkeling reefs, and sheer stunning beauty.
Your sailing home, "SAMANA", provides outstanding cuisine. Wholesome and delicious meals are the rule for on-board dining. Letty prepares many dinners indigenous to her Dutch homeland. A complete menu for the week is listed below.
Breakfast and evening meals are generally served at anchor or mooring and a noon meal is usually served while underway. From the time you board SAMANA until your sail training course is completed, all meals are provided.
Breakfasts will consist of toast & jellies, boat baked fresh bread, yogurt, fruits, eggs, breakfast casseroles, dry or hot cereals, coffee and tea.
Lunches will consist of soups, sandwiches or salads.
Evening Meals:
Day One
Fresh Garden Salad
Ginger Chicken served over Basmati Rice which includes Ginger, Green peppers, Onions, Stewed Tomatoes, Raisins, Sambal Oelek (Dutch East Indian Hot Pepper Sauce) and Ketjap Benteng Manis (Soy Sauce)
Dessert
Day Two
Fresh Garden Salad
Honey Roasted Ham – Sweet Potatoes
Dessert
Day Three
Fresh Garden Salad
Nantucket Pork Roast – Sweet Potatoes – Grits
Dessert
Day Four
Fresh Garden Salad
Italian Spaghetti
Dessert
Day Five
Orange Salad
Grilled Black Angus New York Strip Steak
Dessert
Day Six
Eight Vegetable Salad
Five Corn Pie
Dessert
Simple, yet nutritious meals are served during our sail training courses. 
Our Mission
The instructional mission of the School of Ocean Sailing is to teach offshore ocean sailing and ocean navigation in a live-aboard setting.
Personalized instruction from professional teachers
Teach sailing aboard a large, beautiful and well equipped offshore heavy displacement ketch
Teach navigation using modern electronic navigation equipment
Teach navigation using non electronic navigation procedures
Offer an ocean sailing experience under real ocean conditions
Instil confidence
Use high quality sextants and celestial navigation materials
Offer a balanced blend of formal instruction, practical experience and relaxation
Serve excellent food
Anchor or Moor in quiet anchorages
What they say about us / Magazine articles and reviews
USA TODAY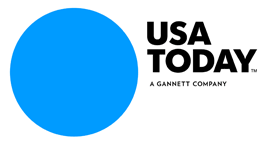 ---
A mention about our sailing school in USA Today Travel Tips. Sailing Courses and Training in the Caribbean.
GOOD OLD BOAT MAGAZINE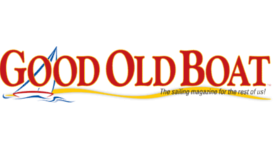 ---
An in-depth article written by one of our students and published in Good Old Boat Magazine
Issue 21.