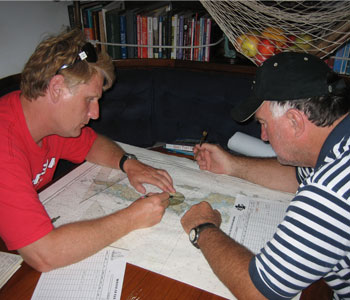 What to expect from a sailing school
What to expect from a sailing school:
When you enrol in our sailing program you should expect:
Personalized attention form professional instructors
To learn sailing aboard a large, beautiful and well equipped offshore heavy displacement ketch
Excellent food and accommodations
Hands-on sailing experience
Instruction using modern electronic navigation equipment
Instruction using non-electronic navigation procedures
High quality sextants and celestial navigation materials
A balanced blend of formal instruction and practical experience and relaxation
Ocean sailing experience under real ocean conditions
Anchor or moor in quiet anchorages
Whales, dolphins, sea birds, turtles and fish
What to expect from a sailing school's typical day's instruction:
A typical day's instruction begins with breakfast at 0700 followed by a formal class from 0800 to 1130. Ocean Sailing and Navigation students prepare each day's run and under supervision navigate and learn how to sail the vessel to its next anchorage. Celestial navigation students usually devote the first two days full-time to celestial navigation objectives, and then participate in the formal radar, GPS, SSB, electronic charting and weather classes later in the week with advanced ocean sailing and navigation students. Celestial sight reduction and running fix techniques using the sun are continuous throughout the week.
The 7-day Combined Ocean Sailing and Advanced Navigation (or Celestial Navigation) with Night Passage course includes one night sail with 3 hour watches. In the Caribbean we leave the anchorage just before civil twilight and depending on the weather will pass offshore around Frenchmen's Cap and enter the busy port of Charlotte Amalie in the dead of night.
Each day you will assume the very real responsibilities for deck operations, coastal navigation, celestial navigation, helm, or sailing master. In effect, students in the class prepare the daily navigation plan, and sail and navigate the vessel to its days destination. Most voyages are between 5 – 6 hours duration. Expect to operate in very real conditions be it light calm, ideal winds, heavy weather, or fog. Lunch is usually served underway and supper is at the next port.
After mooring the Samana, time is split between instruction, snorkeling, or relaxation. What to expect from a night anchorage:
We sail and anchor in waters and bays surrounding the USVI and the Spanish Virgin Islands including St. Thomas, St. John, St. Croix, Culebra, and Vieques.
Anchorages are quiet and sometimes we are the only vessel. Some anchorages can only be reached by water or back packing. We swim or snorkel every day in anchorages with clear water and live coral.
Anchorages are filled with frigate birds, pelicans, brown boobies, sea turtles, rays and exotic fish.
There are no bars, loud music, and city noise on shore, but rather the ruins of old sugar mills and hiking trails steeped in history of the Virgin Islands.
We sail, navigate, anchor, snorkel, swim, eat, and relax. We go to bed at dark and rise at dawn.
After reviewing our course outline please contact us by phone or e-mail before enrolling online to insure your expectations and goals are aligned with our sail training, live aboard, anchoring and sailing route goals. We are committed to providing you both a rich academic and superb experiential sail training program.
What they say about us / Magazine articles and reviews
USA TODAY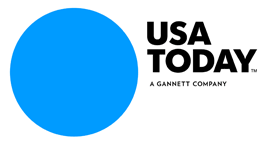 ---
A mention about our sailing school in USA Today Travel Tips. Sailing Courses and Training in the Caribbean.
GOOD OLD BOAT MAGAZINE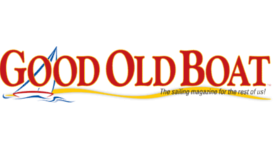 ---
An in-depth article written by one of our students and published in Good Old Boat Magazine
Issue 21.